Precision Cutting and Colour Specialists
At Retreat Hairdressing in Erina on the Central Coast our highly trained hairdressers are experts in precision hair cuts and are up to date with the latest styling techniques.
It's important to us that you leave our salon with a style and look you love. Talk to one of our friendly hairdressers for advice about which hairstyle will suit you, and rest assured you will leave looking and feeling amazing in the best Precision Cutting ever.
Precision Cutting consultation
Our trained stylists stay ahead of the latest hair fashions and trends and are happy to give you a hairstyle consultation to help assess which hairstyle will work for you.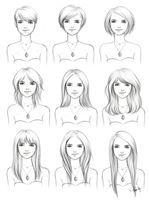 Precision Cutting and facial features
Using precision cutting and hairdressing techniques at Retreat hairdressing a haircut is styled to blend in with your facial features, general image and your desired look and here at Retreat Hair Salon we have the skills and experience to create the best haircut to compliment you. A great haircut will make you look and feel amazing and our stylists will help to create the precise look you want for a great new you.



 Precision Cutting to create short haircuts and styles
A short pixie cut or a short bob hairstyle are easy to style and maintain, and are gorgeous short hairstyles to accentuate your facial features. Short haircuts and hairstyles require precision cutting and attention to detail. Our professional stylists will ensure you leave RETREAT Hair Salon with a precise short haircut every time. Your stylist will advise you to book in for regular cuts to maintain the upkeep of your great new style.



Precision Cutting for mid length and medium length hair styles
Mid length hairstyles can be really versatile. You can wear your hair tied back in a ponytail, in an upstyle or curled into big bouncy curls or mermaid waves. Medium length bobs can look great worn straight and sleek or you can have some layers cut into your bob to create a more casual or messy bob.



Precision Cutting for long hair
Long hair can be worn poker straight, in big bouncy curls, a stylish upstyle or tied into a ponytail or plaits. Some face shapes really suit a fringe with a long hairstyle so ask your retreat stylist for advice if you fancy updating your style with a fringe. Regular essential maintenance appointments are required with long hair to keep your long locks in perfect condition and looking healthy and shiny.
If your long hair is naturally wavy or simply looks dull and damaged, why not treat yourself and book in for an AGAVE SMOOTHING TREATMENT here at RETREAT HAIRDRESSING?
 Looking after your hairstyle
To ensure you keep your hair looking lustrous and healthy, we can advise you on using the right products to avoid damage. We are experts in offering the latest DAVINES hair treatments which will give your hair the boost it needs.
Book an appointment for your gorgeous new hairstyle at our hair salon in Erina, Central Coast, give us a call on 02 43676366.